The
Estetica Graphic Design & Web Design Forum
which opened at the start of 2008 is offering Graphic Design & Web Design blogs to add their live RSS feeds to the
Graphic Design Blog section
. This means when you post on your blog it automatically posts it as a forum post with a link back to your blog meaning if the post is interesting enough, traffic will be driven towards your blog.
To add your Feed, sign up at the forum and use the contact form to tell the admin team why you feel your blog would be of interest to the readers. This is a great way to boost readers on your blog and also be part of a growing
Graphic Design & Web Design Community
.
As well as the forum the team have also launched a Social Bookmarking and Voting system for Designers using Pligg called
Graphic Design Links
.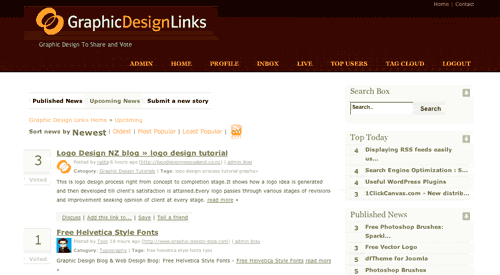 This also has the ability to add your RSS feeds from your blog to automatically add your blog post link to the sections for people to comment and vote on and is also a free link back to your blog. To add your feed here contact the forum admin as above.
You have read this article blog / feed / Forum / Free / Graphic Design / links / rss with the title Free Backlinks to your blog. You can bookmark this page URL http://artcompetitionslist.blogspot.com/2008/02/free-backlinks-to-your-blog.html. Thanks!